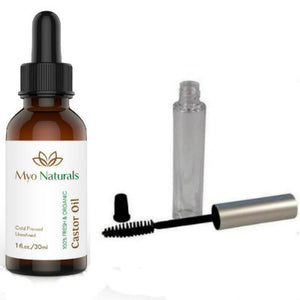 Natural Organic Castor Oil - 100% Pure and Cold Pressed Conditions eyelashes and protects from brittleness and breakage. Fast and easy filling for travel. Your Glass dropper applicator fit's easily inside the mascara tube for a Fast & Mess Free Fill up. For best results follow the directions we have listed for this product. Repair Long-term damage to hair follicles.Grow Lush Long eyelashes and naturally bold eyebrows. Seals in Moisture for shiny, head-turning hair and glowing skin. Also reduces blemishes, acne, scars, and fine lines without leaving your skin dry and damaged.
Use castor oil for longer eyelashes/thicker eyebrows- Castor oil is so rich in nutrients and deeply concentrated, hence even a small amount of oil can do wonders for your eyelashes. Applying castor oil in optimum amounts will do wonders in growing your eyebrows as well.
Our Organic cold pressed castor oil castor oil possesses anti-bacterial, anti-fungal, and antiviral properties, it is the perfect remedy to tackle scalp infections and issues such as bald patches, itchy scalp. These properties reach out to fight pathogens and micro-organisms. Additionally, it clears off the most common hair problem - dandruff. Castor oil stimulates hair growth and is often used as a hair tonic to promote thicker, healthier hair. When used on the eyelashes or eyebrows, castor oil helps accelerate regrowth in eyebrows that have been over-plucked or waxed. It can also cause eyebrows to grow thicker and darker.
Castor oil will help your eyelashes to grow thick and long, and can keep them from breaking. It can also help you grow new eyebrow hair in bare areas that might've been over-tweezed. Use as directed for best results.
Apply some to old scars or stretch marks so that the castor oil can help your damaged skin heal more permanently. Or use it on fresh cuts and burns and let the oil's natural antibacterial and anti-fungal abilities keep your skin clean and ready to heal either way. This rich, concentrated blend of fatty acids and essential vitamins works to nourish, strengthen, and seal the right amount of moisture into your hair, repairing damage, encouraging growth, and keeping your hair free from frizz.
As good as this restorative oil is on hair, it's even better for dull and damaged skin. When you use this in your hair regularly, you may notice the skin on your scalp has stopped itching, that your dandruff has disappeared, or that the skin showing through your part looks healthy and smooth.
This kit is also included with 1 Empty Mascara tube is BPA Free measures 4.25 inch (10.795 cm) tip to tip. Holds 8 ml (0.25 fl. oz). Comes with a reducer to avoid using to much product. Seal in freshness the lids on these tubes seal tightly to keep air out and preserve the beneficial compounds in the oil.
The easy way to apply castor oil use these bottles to store your castor oil and enjoy effortless application with the included wands mess free design. The lip on the top of the bottle lets you wipe off excess oil with ease.