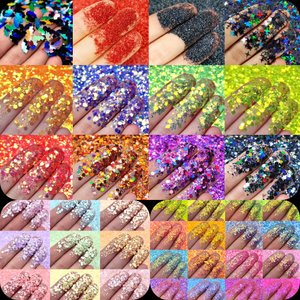 40 Total Grams Each Reclosable bag has 4 grams per bag of product sold by weight. You Will Get 10 Assorted Chunky, Shaped, And Fine Colors Randomly Selected NO DUPLICATE COLORS.
Glitters can be used to color Epoxy, Haloefx, Resins, P1, Paint 3D Printer Ink, Plastic Resins, Rubber, Latex, Nail Polish, Screen Prints, Lipstick, Lip Gloss, Lip Balm, Mineral Makeup, Melt And Pour Soap, Stampers, Fabric, Embossing, Tumblers.

These glitters can be used as-is for makeup or incorporated with other mica's and ingredients to create beautiful finished formulations.
Highly concentrated mica pigments with rich color vibrancy and intense color effects.

Color: Assorted Grab Bag Mix - Holographic, Pastel, Iridescent, Color Shift, etc

Shapes: chunky, shapes, flakes, Stars, dots, etc.