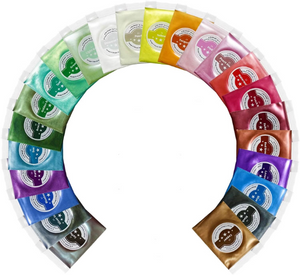 You Will Get 10 Assorted Colors Randomly Selected NO DUPLICATE COLORS.

Mica pigments can be used to color Body Butter, Epoxy, Haloefx, Resins, P1, Paint 3D Printer Ink, Plastic Resins, Rubber, Latex, Nail Polish, Screen Prints, Lipstick, Lip Gloss, Lip Balm, Mineral Makeup, Melt And Pour Soap, Stampers, Fabric, Embossing, Polymer Clay And Wood.

**FOR BATH BOMB'S ADD POLYSORBATE 80 TO YOUR MIX TO AVOID STAINING OR LEAVE RING AROUND YOUR TUB**

This cosmetic powder can be used as-is for makeup or incorporated with other mica's and ingredients to create beautiful finished formulations.

Highly concentrated mica pigments with rich color vibrancy and intense color effects.