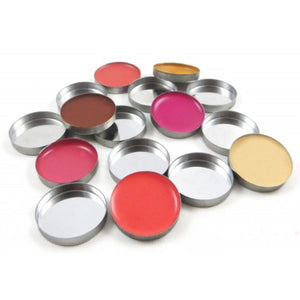 Pans are generally for pressed powders, as well as for hot pour and cold process cosmetics. Fits with any 26mm Mac eyeshadow Palette & Z palette. This makes tin pans a perfect choice if you are placing them into any type of magnetic palette.
Quantity: 25, 50 or 100
Size: 26mm
These heavy duty pans are great for pressing pigments, melting lipsticks, and other arts and crafts projects. Tin pans are great for creating your own combinations and refilling your favorite cosmetics products for your palettes.
There are no limits to how you can customize your Z Palette with these empty metal. Fill them with concealer, lipstick, and foundations. Press loose pigments into the empty pans to create your own shadow. Magnetized to adhere tothe Z Palette pan. Flat surface to easily write product name with a marker for future reference.
Small Z Palette fits 9 Round Empty Metal Pans 4U Z Palette fits 15 Round Metal Pans Large Z Palette fits 28 Round Empty Metal Pans PRO/DOME Z Palette fits 28 Round Empty Metal Pans plus room for a thin brush.