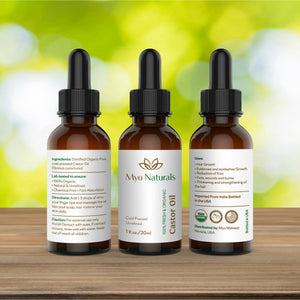 1 Ounce Bottle GROW LUSH LONG EYELASHES and naturally bold eyebrows. The Simple application to lashes, browlines and detailed areas. SEALS IN MOISTURE for shiny, head-turning hair and glowing skin. Also reduces blemishes, acne, scars, and fine lines without leaving your skin dry and damaged. If you are new to Castor Oil, find dozens of uses & benefits of this amazing oil from the Palma Christi plant.
Ensure you get maximum results for your eyelashes, hair, skin, nails, and body. BOOSTS GROWTH of long and thick hair in a quick, natural way, while also diminishing hair loss. WORKS AS A NATURAL CONDITIONER and moisturizer for skin and hair, giving you dramatic results without unwanted chemicals. Castor oil stimulates hair growth and is often used as a hair tonic to promote thicker, healthier hair. When used on the eyelashes or eyebrows, castor oil helps accelerate regrowth in eyebrows that have been over-plucked or waxed. It can also cause eyebrows to grow thicker and darker. Castor oil will help your eyelashes to grow thick and long, and can keep them from breaking. It can also help you grow new eyebrow hair in bare areas that might've been over-tweezed.
Instructions:
Wash your face with a mild soap and remove all traces of makeup from your eyelashes and eyebrows. Dip the mascara wand into castor oil. It is important to only apply a thin layer, so use a clean tissue to dab away drips from the wand if necessary. (Mascara tube comes with reducer)
Brush the oil evenly through your eyebrows from inner to out tip. Then use the wand to apply the castor oil to your eyelashes, just as you would mascara, from root to tip.
Leave the castor oil on overnight and rinse off with a mild soap in the morning before you apply your makeup.
Repeat this process every night and you will very quickly begin to see results. I personally have been using castor oil on my lashes for about 2 months now and there is a very noticeable change in both the length and thickness of my lashes. I also apply it to my eyebrows because I had over plucked them years ago. My brows have also begun to grow in again.